Norwich Cavalry Troop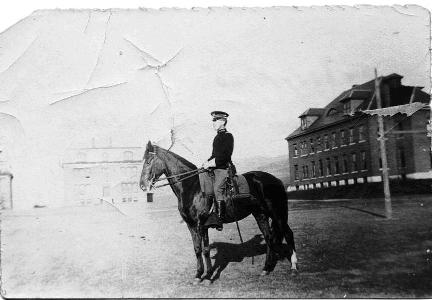 An informal course in horsemanship was first offered at Norwich University in 1906 under the instruction of Capt. Leslie Chapman, the first cavalry officer to be detailed to Norwich by the War Department. This marked the beginning of cavalry training at Norwich, destined to eventually become one of the outstanding features of the University, and to last until just after the Second World War.
Breckenridge Farm was the home of the re-established Cavalry Troop from 2004-2014.  The troop was asked to "stand down" in the Fall of 2014 due to lack of University Funds.
The Norwich Cavalry Troop received comprehensive horsemanship training at Breckenridge Farm. This training consisted of not only classical riding techniques, but also ground training and handling, horse management, horse science, drill team work,weapon use and performance skills. Emphasis was placed on the physical fitness of horse and rider as well as on effective positive reinforcement. Cadets participated in a variety of activities including musical rides, ceremonial drills, parades, jumping, driving, vaulting, and intercollegiate activities. The Cavalry Troop performed at Breckenridge Farm at the end of every semester.